How are offline maps apps significant to use?' The answer is there in this post! To know more, read on.
GPS navigation application makes the work easier for most people. Commuters, for instance, can get a wide range of benefits from such an excellent app. These apps do not only give a better insight into the locations but also identifies traffics, road closures, and so on. The only downfall of using such an online application is that it requires hefty data charges. Given that the Internet rules the modern-day world, the necessity for having Internet-connect at all times is very crucial.
Of course, people staying at home can make the right use of their Wi-Fi router. Plus, there are unlimited data packages available. Excluding the hefty price, there are other situations that can bring you in all the more fussy situations. Poor connectivity, for example, is one of them. Besides, there are other demanding situations where the Internet might not be available on the road, for example, in the subway tunnels. Drivers or commuters who want to avoid the hefty prices for data can, thus, use offline maps apps. Sounds amazing? Keep reading on.
An Offline Map on Road – Is it beneficial?
Using an offline map app can make all the difference in the times needed. For any map application, its offline feature is as vital as other features. Commuters who drive their cars or bikes and even drivers by profession, both, can make the right use of such a feature. Especially when exploring another city when the data gets in roaming mode, offline maps apps can be most beneficial. The ones driving into the dead zones during road trips can also get benefits from such applications (features). In this post, you are going to get enlightened about the five most reputable offline map applications available in the market.
1. HERE WeGo
While Google Maps can do all the wonders when you're on road, the HERE WeGo app is there to give crucial competition to it. It's a very popular application among foreign travelers too. It's beneficial for people having limited internet plans. The application allows drivers to download more than 100 country maps around the globe. Apart from that, it also lets you enjoy the walk or voice guide sans cell signals. With a simple and attractive user interface, its offline mode is reliable. To say that it's just an Editor's Choice application on the Google Play Store will be an utter understatement.
The application also features information on public transit of about 1300 cities. This particular feature helps users to find out the most crucial things including bus timings, bus and subway fares, hotspots, and more. It wouldn't be an exaggeration to call it a biker's handy guide, because it elucidates on the flat or hilly surface of the location!
2. Offline Google Map
Android users feel luckier to get super-amazing apps loaded on their smartphones. To speak of one such amazing app, Google Maps is the pre-loaded navigation application that is available in all smartphones right from the time of purchasing it. And one of the most utilizing abilities of its application is its offline mode.
Google Map's offline mode allows you to download the areas of interest by using a Wi-Fi connection. By doing so, you can save the location for future use. The app gives the SD card the preference to use it later. Obviously, you wouldn't be able to get traffic updates when using its offline version. However, you receive access to the information which includes timings, public transiting options, and more. So, it's a useful feature when you're traveling to foreign countries. You can schedule downloads but before you do that you should know the cached map is valid only till 30 days. After the time span, it gets expired automatically.
3. OsmAnd Offline Map
It's a product that comes with a collaboration of two platforms. The open-source platforms that have collaborated to bring one of the most reliable offline maps apps are Wikipedia and OpenStreetMap. For navigating offline, OsmAnd gives you the allowance to download a total of 7 map file at free of cost. You can choose either a road network or complete map, given that it entirely depends on the usage as well as the device's internal space. Japan's complete map data, for instance, will require a total of 700 MP. On the contrary, its road network will only require 200 MP.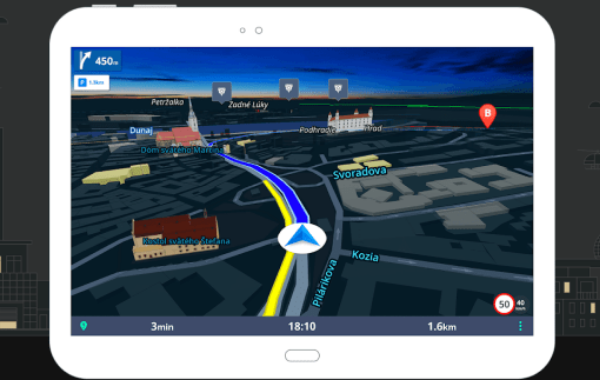 In a nutshell, OsmAnd offers information regarding hiking, biking, and footpaths. It's beneficial because it happens to be an open-source platform. It reports the bugs and adds points of attractions accordingly. The best thing about using it is that it uploads everything once you go back to the online mode.
4. me
Another amazing navigation application that has been built off the OpenStreetMap data is the Maps.me. It comes sans the in-app purchases, and that's apparently the best thing for the ones who want to avoid those pesky in-app purchases while using an application. Another amazing thing about this application is that it doesn't restrict you with download limits when using the optimized offline application. The features and the map itself are free to use. What might bother you is the time when you see a couple of ads popping up.
Whatever that maybe, its offline mode is really simple and easy to use. It gives information on walking and driving. It also supports public transit as well as cycling modes. Users get directions to POI around the location. Additionally, it also offers hiking trails as well as tourist places that are missing from commercial maps.
5. Sygic
One of the most reliable offline maps apps, Sygic, gets the data from the TomTom besides other providers of mapping data. To say that it's a massively popular navigating application would be a sheer understatement. Another plus point of using this offline map app is its 3D view.
Sygic users already know how intriguing the platform is. The app also offers an intuitive UI with a feature for advanced safety. The offline mode is available with useful information including Dynamic Lane Assistant, speed limit changes, and more. It would not be an exaggeration to call it a handy app for the purpose of driving. Users also get GPS navigation with the voice-guided features.
Thus, these are the best five offline maps apps that drivers and commuters can rely on.