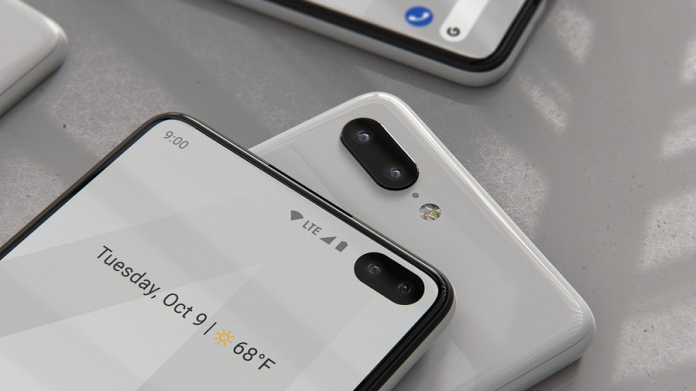 Technology has been treading at a lightning-fast pace. Today, with the help of the ever-evolving technology, we are closely knitted to the world, and it's proceedings. Smartphones and other smart gadgets have placed the world right into our palms. Anything and everything within reach of human minds is now readily available on the phone screens. This article is about Google Pixel 4.
Over the years, smartphone technology has been advanced to accommodate all the advanced features that make these smartphones even more efficient. When it comes to smartphones, there are plenty of big names that have already established their credibility in the market with their multitudinous benefits. Google, the technology marquee of the world, recently introduced its smartphone line Pixel back in 2013.
Developed by Google and powered by Android or Chrom OS, Pixel instantly shot to fame due to its impeccable specifications. The first Pixel phone was launched in February 2013 with the first generation Chromebook Pixel. Google's Pixel line of gadgets includes smartphones, tablets, and laptops, along with their accessories. Though each of the Pixel products grabbed ample limelight, it was Pixel smartphones that sustained a credible name in the market.
Google Pixel: What Makes It Better
Google launched its first-generation smartphones on October 4, 2016, with Pixel and Pixel XL. Pixel smartphones were focused on enhancing the camera. The smartphone had a 12.3 mp rear camera (f/2.0 lens and IR laser-assisted autofocus, 1.55-pixel size) and an 8 mp front camera. Such camera specifications were breaking grounds in the smartphone industry. Along with camera specifications, Google Pixel also boasted some other remarkable features. Below are some of the notable features of first-generation Google Pixel.
Qualcomm Snapdragon 821
5.0" AMOLED display, 1080×1920 pixel resolution
32 GB or 128 GB storage
4GB LPDDR4 RAM
2770 mAh or 3450 mAh non-removable fast-charging battery
Aluminum design with hybrid coating
Android Nougat 7.1 upgradable up to Android 10.
Pixel 4 and 4XL: Taking innovations to the Next Level
Launched on October 15, 2019, Google Pixel 4 and 4 XL are the next-gen Android phone introduced by Google. Since its launch, people are going gaga over the specifications and updating their reviews on YouTube and other social media platforms. Google leaked a first look picture of Pixel 4 back in July, which created quite a buzz among the users. With further ado, let's jump into the specifications that make Pixel 4 and 4XL, the much talked about smartphone in the market today.
Display
Pixel 4: 5.7-inch, FHD+ resolution, 444pi
Pixel 4XL: 6.3-inch, QHD+, 537pi
Both the phones have a 19:9 aspect ratio that enables smooth display at a refresh rate of 90Hz. Ambient EQ makes the automatic color adjustment more seamless than ever. Furthermore, Pixel 4 and 4XL has HDR with UHDA certification.
Dimensions And Weight
Google has focused on making the Pixel as lightweight as possible.
Pixel 4: 162 grams, 68.8 x 147.1 x 8.2 mm
Pixel 4 XL: 193 grams, 75.1 x 160.4 x 8.2 mm
Battery
While mAH remains in a dangling situation, both the Pixel 4 and 4XL has 18W fast and wireless charging.
Pixel 4: 2800mAh
Pixel 4XL: 3700mAh
Camera
As always, Pixel has focused on making the camera remarkable. Both the Pixel 4 and 4XL shares the same specifications.
Main: 12.2- megapixels, 1.4 µm pixel width, OIS, f/1.7 aperture, 77 degree view, dual pixel phase detection
Tele: 16 megapixel, 1.0 µm pixel width, phase detection, f/2.4 aperture, 52 degreed view
Video: 1080p @ 30, 60 or 120 fps, 720p @ 240 fps; 4K @ 30 fps. Front camera, 1080 @ 30 fps.
Face Lock
One of the fastest face lock technology ever made, Pixel 4 and 4XL locks and unlocks quickly. No matter whether you are sitting in dark or open sunlight, Google's Face ID will recognize your face instantly and extends complete security.
Motion Sense
Apart from the unparallel face lock features, Motion Sense is the next best thing in Pixel 4 and 4XL. There is a radar chip at the top, creating a hemisphere of spatial awareness within 2 feet diameter around Pixel. It detects your motions smartly, whenever you are reaching the phone or moving away. When you walk away from Pixel and leaves the screen on, Motion Sense will detect it automatically turns off the screen. It lets you control the volume as well when the phone is held near.
Pixel Neural Core
Google created a brand new coprocessor, i.e., Pixel Neural Core, that enables real-time previews. Another major advantage of Neural Core is that it understands spoken English, enabling users to convert speech to text in real-time. Google Assistant has been revamped, and you can ask Google and get things done instantly. Google Calls it "New Assistant," which is faster than ever and relies less on servers. The New Assistant is devised by human intelligence that has sorted many things for the users.
Hardware Design
People have compared Pixel 4 and 4XL with iPhone 11, and the similarities are uncanny. But Pixel distinct itself from the iPhone with its color contrast. The white and orange body with a bumpy back camera gives a chunky look to the phone. The black version of Pixel 4 and 4 XL has got a glossy back that makes it quite different from its white version. Weighing remarkably less than iPhone 11 Pro and Max, Pixel 4 and 4XL doesn't use large batteries
Since its inception back in 2016, Google Pixel smartphones have been creating a buzz with their standalone features. So far, Google has launched four smartphones in the Pixel line. The 5th and the most revolutionizing edition to the Pixel series is Pixel 4 and 4XL. Each and every Pixel specification is made to blow off your mind. Whether it is the impeccable camera quality or the sleek built, Pixel 4 and 4XL is bound to startle your mind with its first look.
If you are a fan of Google Pixel flagship phones, you will definitely love this latest edition. As you already know that there is fierce competition between Google and Apple, it is great to see some breathtaking designs launched by both brands. Google Pixel 4 and Pixel 4XL are Google's reply to Apple's iPhone 11 and iPhone 11 Pro.
If you are looking for a smartphone that's productive in all areas, Pixel 4 and 4XL will provide you immersive Android experience.
Get hands-on the brand new Pixel smartphones and experience the ecstasy of using one of a kind smartphone with the latest Android.