The repercussions of COVID-19 pandemic on global education have been quite impactful. With universities and schools being closed down, students are being encouraged to take online learning.
As of now, this change has gone well and paved the way for new learning as well as teaching opportunities for students and teachers, respectively. 
When you look at the current situation we are in; there is no surety as to when the situation will return back to normal. Amidst the ambiguities, online learning makes sure that students are receiving education consistently without any restriction of location.
Online Learning is Opening New Avenues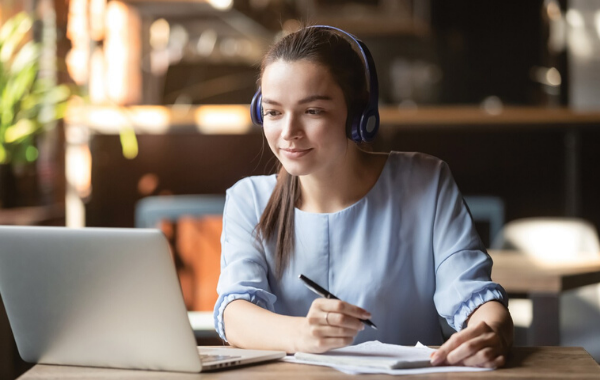 Schools, as well as colleges across the globe, are locked down in an attempt to stop the spread of the fatal coronavirus. With no sign for vaccines yet, there is no surety when students will be able to go back to their schools and colleges again. However, education institutions have leveraged technology in order to ensure students can remotely continue their classes.  
Online classes have enabled students to gain an education in a seamless and comfortable manner. By leveraging online learning, the education system has made sure to keep the wheel of leaning spinning for students. 
And, distance learning is making a tremendous impact, and it is safe to say that it has transformed the course of the education system across the world. While online learning was popular earlier as well, right, the prominence has increased manifolds. 
Bridging the Gaps of the Education System 
The prevailing condition with COVID-19 has highlighted how interconnected we are on a global level. Right now, there are no isolated problems, solutions, or measures. The world has integrated a collaborative way to face pitfalls in various aspects, including education. 
Online learning is being conducted where national and international institutions are collaborating with each other. Such a global partnership is ensuring that students, irrespective of the location, receive quality education via the different digital mediums.  
There is an increased alliance between technologies, education platforms, and educators, and in the association, they are creating the pathway for a globally interconnected and collaborative education landscape. 
Online Learning Imparting the Life Skills 
In a rapidly changing landscape, students need to build adaptability and resilience to work their way through challenging situations. Thanks to the grave implications of the pandemic, many of us have already developed these skills. 
Along with the practical skills, in the future, collaboration, communication, emotional intelligence, creativity, empathy, etc., are going to be among the some of the important and sought after skills that employees will look at. 
Online education is helping students to learn alongside people belonging to various demographics in enhanced digital ecosystems. Such an expansive association during the learning process assists in integrating strong quality of teamwork. 
Restructuring the Role of Education 
The phenomenon of educators as individuals who possess the right knowledge and impart the same to students is not going to fit the education frame for the future. Presently, students are acquiring education as well as learning skills convenience on their smart devices in a matter of a few clicks. 
Therefore, educators have to reinforce their skills and roles from merely offering knowledge to assist students in developing as a whole. 
In digital learning, educators not only center on streamlining the textbook content; they have to make additional effort to make students comprehend applications of different concepts in various areas. 
Moreover, they motivate students to associate with each other digitally and execute practical assignments to make the learning process more realistic and enriching. 
Technology Taking the Forefront of Education System 
The pandemic has forced academic institutions across the world in order to leverage the technological tools in order to design content to help in enhancing online learning. In addition to the students, educators are also exploring better opportunities to do things with higher flexibility and streamline that is assisting them in building education more accessible to students across the globe.
Technologies that have remained unexplored for ages are being used to provide learning. Online learning has allowed students and teachers to comprehend the prominence of technology within the education landscape, and its significance is only going to be more prominent in the future. 
Revolutionizing the Curriculum  
Presently a lot of the curriculum is teacher-centric, and students have to wait for educators to offer the information that they need to know. Right now, students are learning more theoretically, rather than comprehending practical application. 
With online learning, students get to learn beyond what is written in textbooks. They harness various platforms as well as tools to practice the theories of the book, and the teacher helps with learning as well as assistance. 
There is more learning material in online education as well as classroom content. This is because e-learning needs significantly less time to learn as opposed to the traditional classroom setting.
It allows students to learn at the pace and time they are comfortable and customize their learning experience. The convenience and flexibility have provided excellent opportunities for the digital education system. 
Learning Opportunities that are Equal and Alike

Whether you are a working professional or a student, online learning offers education opportunities to all. Digital platforms have been creating a curriculum that complements the learning opportunities of both students as well as working professionals. 
However, the situation of COVID-19 has made the adoption of this phenomenon on a massive scale. By eliminating the physical restrictions from the landscape of education, online learning enables people from various parts of the world to connect with each other and learn. 
People who wish to learn and are incapable of the same because of their unfavorable condition now have access to online learning. 
Online Learning – Creating New Learning Opportunities 
The COVID-19 pandemic has transformed our perspective on various things that include how we acquire education. The implication of the existing situation will significantly impact how students gain an education in the future as well. 
Therefore it is safe to say that online learning has become the new normal in the education realm.  And it is quite evident that students are going to depend on it even after the situation with COVID-19 becomes normal.