How exciting is it to get into the Star Wars world? Do you know Disney World allows you to be a part of the Star Wars world? You may have heard that Star Wars a Galaxy's Edge is the most immersive theme park of Disney World and Disneyland. Isn't it exciting to know more about the star war world at Disney World? Therefore, in this article, I will give a brief introduction to the Galaxy's Edge. I will cover all the correct and necessary information. So, this article is all full of excitement for Star Wars franchise fans. Let us start with a brief introduction to the Galaxy's Edge. Now, get ready for the thrilling adventure of the Galaxy's Edge.
Brief Part Of Star Wars A Galaxy's Edge:
In simple words, the Galaxy's Edge of Star Wars is a themed area at Disney World and Disneyland that the Star Wars Franchise team inspired to build. You can find these themed areas at Disneyland Park in Disneyland Resort in Anaheim, California, and Disney's Hollywood Studios in Walt Disney World Resort in Orlando, Florida.
The announcement to construct these lands was made on August 15, 2015. On April 14, 2016, the construction started for both places. On May 31, 2019, the Disneyland version of this themed area opened for general guests, and on August 29, 2019, this area at Disney's Hollywood Studios opened for guests.
Guests can never refuse the facts that Imagineers and executives of these areas have covered a detailed story. It guarantees guests that they will have a lifelong thrilling and exciting experience if they know how Star Wars franchise entertains.
Galaxy's Edge Statistics And Facts:
The total area that both lands covered is 14-14 acres (14 acres at Disneyland and 14 acres at Walt Disney World).

Galaxy's Edge has two attractions, shops, restaurants, and it entertains.

Galaxy's Edge is itself set in the village of Black Spire Outpost. This village is on the remote frontier planet of Batuu.

These lands have themed on Star Wars.

Disneyland Park is in operating conditions, and it has replaced Big Thunder Ranch. Similarly, Disney's Hollywood Studios' Galaxy's Edge is in running conditions, and it had replaced Streets Of America.
What Star Wars Franchise Fans (Who Visited) Said?
As soon as you enter Star Wars A Galaxy's Edge, you will find yourself on a remote planet of Batuu. Disney chose to create a new world that has its place in Star Wars history instead of developing land around any of the franchise's previous settings. It gives guests a genuine and honest yet thrilling and exciting Star Wars experience. However, even if you call yourself the biggest fans of Star Wars, you will find some hidden gems and mysteries about it.
You may have known that Batuu's storyline is the prime thing for Star Wars. It is a home for smugglers, adventurers, rogue traders, and many more. This place has become a perfect location for the people who look to get out from under the First Order's Thumb.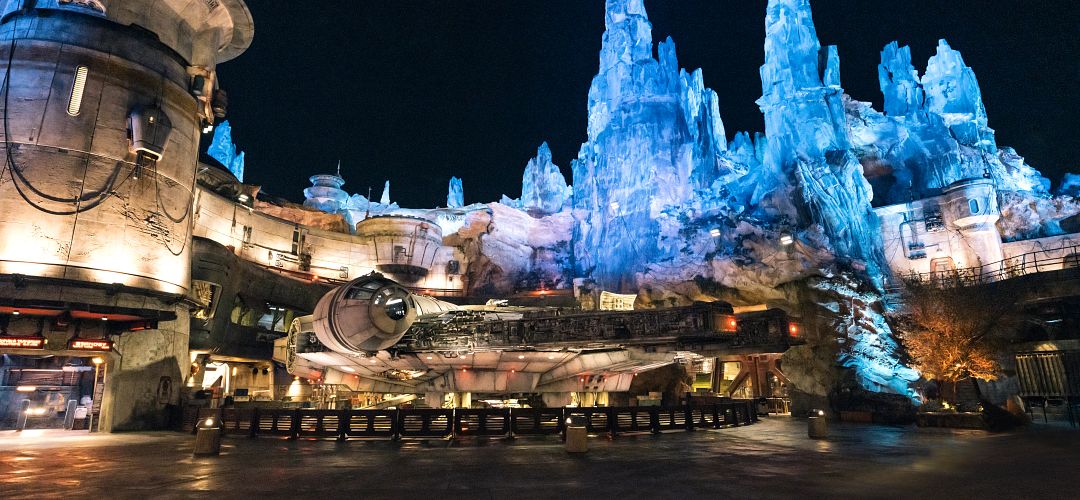 At Walt Disney World's Galaxy's Edge, people find it lying adjacent to an accompanying Star Wars-Themed Deluxe Resort Experience. It has directly and seamlessly connected to Disney's Hollywood Studios. Its fans or guests can increase their immersion because there are numerous wall-to-wall theming and story elements present.
Galaxy's Edge Far-Away Planet Of Batuu:
When you visit these lands, you can find the Star Wars planet of Batuu at both Disneyland and Walt Disney World. This Far-Away Planet is in the gates of Walt Disney World Florida, and this planet has two attractions, the Millennium Falcon and Star Wars Rise of the Resistance. It has a Chewbacca, Rey, a cantina, blue milk, a hideout, and many more exciting locations. Both these edges have many similar elements, but they are not identical twins. Both these lands are far away from each other or say 2,100 miles away from each other.
Let's Discuss Both Themed Areas:
Disneyland Galaxy's Edge:
Star Wars A Galaxy's Edge at Disneyland is located in the northwest portion of the park. This themed area has three entries. You can enter from any of these three entries, Frontierland, Critter Country, and Thunder Ranch. To construct this place, they had to purchase the nearby properties to relocate their offices and warehouses that they had on that land. It has a configured route for Disneyland Railroad and Rivers of America. Because of the construction of this area, they had to close Thunder Ranch permanently. They closed the Critter Country with some Frontierland attractions. It includes a multifunctional event space, barbeque restaurant, and petting zoo.
Walt Disney World Galaxy's Edge:
When you visit Disney's Hollywood Studios' Galaxy's Edge, you will find it in the southwest portion of the park. This theme area has two entries. Either you can enter from Grand Avenue or Toy Story Land. Walt Disney World Galaxy's Edge at Disney's Hollywood Studios had replaced Streets Of America (that includes lights, motors, actions, and extreme stunt shows), and Honey, I Shrunk The Kids: Movie Set Adventure attractions (that closed on April 2, 2016), surrounding New York-San Francisco backlot facades, restaurants, and shops. Due to this, some of the portions of Streets Of America like Muppet*Vision 3D and surviving block of New York facades (rethemed as Grand Avenue, A Los Angeles-themed street.
Attractions At Galaxy's Edge:
Star Wars A Galaxy's Edge has two attractions. The first one is Star Wars: Millenium Falcon – Smugglers Run, which is a simulator ride. Guests can pilot Millenium Falcon. The second attraction is Star Wars: Rise Of The Resistance, which is a dark ride. Guests involved in the battle between the First Order and Resistance.
Galaxy's Edge Millenium Falcon (Smugglers Run):
Have you heard from people that they have seen life-size Falcon at both Disneyland and Walt Disney World? If you are a diehard fan of Star Wars, you will surprise and feel excited when you will see Falcon for the first time.
However, getting your hands on the Falcon is not that easy. You have to keep patience for your turn. It takes approximately 60 to 90 minutes. However, it should not be awful for you when it comes to new Disney rides. Some guests have claimed that visiting Hollywood Studios can cut your waiting time dramatically.
But, Disney World had announced to launch FastPass+ at Smugglers Run. If you arrive after February-19th, 2020, you get this opportunity to snag a FastPass for smugglers run. Isn't it exciting for you? In the later part of this article, I will discuss FastPass.
You may see people talking about an alternative simulated flying ride that gives you different experiences every time because it depends on your crew. However, pilots have to involve in all positions. Right seat for up and down or left (side-to-side) movement is best suited. But, your enjoyment of this ride will depend on your assigned position and the flyer.
Galaxy's Edge Rise Of The Resistance:
I told you that the Smugglers Run is best for fun with the right crew. But the main attraction point at Star Wars a Galaxy's Edge is Star Wars: Rise Of Resistance. It is a usual ride with almost 30 minutes of experience. It guarantees to give full joy and exciting adventure to people by taking people into the world of Star Wars in a way that no single attraction has done before.
This attraction point facilitates multiple components and more than one ride vehicle and location. It introduces stormtroopers, Bad guy Kylo Ren, a Holographic Rey, a "real" BB-8, a "red hot" lightsaber, and many more hidden facts. This ride does not give the facility of FastPass+. It operates by utilizing boarding groups through a new virtual queue.
Guests have to request a boarding group position by visiting the My Disney Experience App.
Galaxy's Edge Millenium Falcon FastPass:
You can book a FastPass+ for Slinky or Falcon 60 days before your trip starts. Disney World updated tier 1 for FastPass+ at Hollywood Studios for smugglers run and Slinky Dog Dash. These only rides in that tier. It means you can choose one or another ride ahead of time.
Dining Facilities & Shops At Star Wars A Galaxy's Edge:
There is Oga's Cantina (restaurant) for sample custom drinks and snacks.

It has one restaurant Docking Bay 7 Food And Cargo.

You can visit Kat Saka's Kettle, which offers to stand purchase sweets and Savory popcorn snacks.

There is Savi's Workshop for guests to create and purchase their custom lightsaber.

Similarly, different restaurants and shops, like DoK-Ondar's Den of antiquities, Mubo's Droid Depot, Toydarian Toymaker, First Order Cargo, Resistance Supply, the Milt Stand, and Black Spire Outfitters are there.
Final Thoughts:
Did you find how exciting it is to visit Star Wars A Galaxy's Edge? In this article, I have covered almost everything that is enough to excite people about this place. Visiting these Star Wars Themed areas at Disneyland and Walt Disney World is a thrilling experience. According to guests, it's only one theme area that is most immersive.