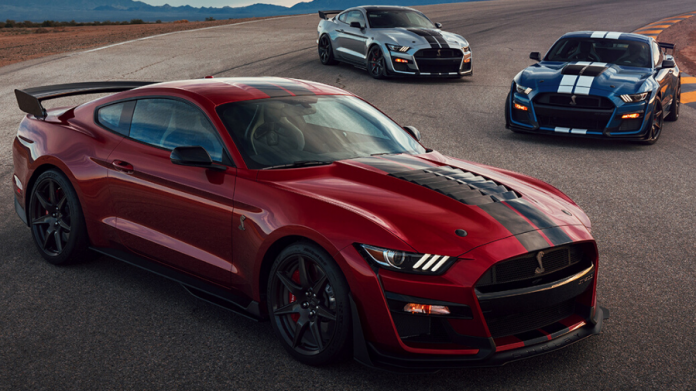 TheThe Ford Mustang Shelby GT500 is now one of the fastest Mustangs that have ever been manufactured. The Ford Mustang Shelby GT500 has retained the muscle car look and at the same time, features sports car performance as well. It has been built on the former racetrack-capable chassis of the Ford Mustang Shelby GT350.
But, in the new Mustang, an additional horsepower of 234 has been added. Apart from the additional 234 horsepower, the Ford Mustang Shelby GT500 also features a supercharged V-8 which powers the 760 horsepower. With the help of the powerful engine and automatic seven-speed dual-clutch along with magnetorheological dampers, the ford Mustang speeds up effortlessly.
One can even avail of optional track tires, carbon-fiber wheel, and the aerodynamic if one wants to make the most out of this beast. As of now, the Ford Mustang Shelby GT500 is right on top of all the American Muscle cars along with the 797-hp Dodge Challenger SRT Hellcat Redeye and the 650-hp Chevrolet Camaro ZL1.
A little history of Ford 
If you are looking for a car that you can rely on for a lifetime, Ford is the brand you must own. It doesn't matter the kind of car you are about to hold, you got it all under the same roof. From Commercial to luxury, the people's favorite brand produces it all.
Founded by Henry Ford and incorporated on June 16, 1903, Dearborn, Michigan, a suburb of Detroit is one of the best and a favorite among car lovers, Ford, or Ford Motor Company, an American multinational automobile maker has pleased their customers with their wide range of customers all around the world.  With hard work and dedication, Ford has earned a reputation among its customers for its flawless service since the time it arrived in the market. It is also one of the oldest car manufacturers. It is now the second-largest car manufacturer in the U.S and 5th in the world.
Ford Owned Car Brands
Ford has been successfully running its family business for over 110 years. It has been under family control from the beginning. Within this extended period, Ford has owned and disowned many other car brands.
Ford bought Volvo as a part of the Premier Automotive Group that consisted of Jaguar, Aston Martin, and Land Rover. Though soon, Ford sold Jaguar Land Rover to the Indian car manufacturing brand, Tata Motors in 2008 but decided to retain Volvo despite facing some massive losses. Soon Ford came up with two new generations of Volvo cars, Volvo S80 and Volvo XC60 but couldn't earn a place in the market and soon had to sell it off with the fear of getting bankrupted but kept a percentage of the total share.
Ford has owned a range of brand from time to time but also sold them and discontinued some. Here is a list of what Ford owned.
  In 1989, it owned Jaguar and Volvo in 2000 but sold both of them to TATA Motors in March 2008.
  In 1999, it owned Volvo and sold it in 2010.
  Then, In 2010, Ford discontinued its entry-level luxury car brand Mercury.
Ford range Of Vehicles
Though after many ups and downs and threats of bankruptcy, Ford held its head high and still is one of the major manufacturers of the automobile in the world. Recently, Ford has come up with some of the best cars on the market that's giving a fierce competition to the other automobile manufacturers. And not only private cars, but Ford also owns some of the best commercial vehicles used all around the world. Ford manufactures its luxury vehicle range under the brand "Lincoln" and its commercial range of vehicles under the brand "Troller". Ford has also produced trucks, buses, and tractors for commercial use.
What to expect from the Ford Mustang Shelby GT500?
The revised Ford Mustang Shelby GT500 which has been designed specifically for 2020 have revived nameplate which was last used in 2014 and was introduced in 2020. The Ford Mustang Shelby GT500 is now one of the best cars from the Mustang series.
Pricing of the Ford Mustang Shelby GT500
The base price of the Shelby GT500 has been kept at $73,000, and the fully loaded model along with some additional options is priced at $95,000. Moreover, with an additional $1500 handling packages, one would acquire an oil catch can strut top mounts, splitter wickers, rear spoiler as well as integrated front fascia dive planes.
The $3000 package will include technology packages such as blind-spot monitoring along with navigation, heated mirrors, SiriusXM satellite radio and the Shelby puddle lamps. And if you are willing to spend as much as $18,500, then you will get the Carbon Fiber Track pack which is ready to hit the track. The additional $18,500 will remove the seats from the Ford Mustang Shelby GT500 and add carbon-fiber wheels which would be wrapped in the Michelin Pilot Sport Cup 2 track tires. Additionally, it will also get a larger rear wing, Recaro seats, oil catch can, adjustable strut top mounts, splitter wickers which will come under the Handling package.
Transmission, Engine and Performance
Mustang Shelby GT500 will have a supercharged 5.2-liter V-8 760-hp engine which can go up to 7500 rpm.
Mustang Shelby GT500 can go from 0-60 mph within 3.5 seconds. And a quarter mile within 100 seconds.
The fuel economy of the Ford Mustang Shelby GT500 is 12mpg in city and 18mpg for highways. While the Dodge Challenger and the Chevrolet Camaro ZL1 can go 16mpg and for the highways, it is 20mpg.
Apart from the engine and exterior, the Ford Mustang Shelby GT500 will also feature exclusive interior and will come with an 8.0-inch touchscreen, Apple CarPlay as well as Android Auto Capability. The standard edition will also have two USB ports, a CD player as well as 9.0 speakers.
As Ford Mustang Shelby GT500 is the fastest Mustang ever, the fans just can't keep calm. If you are really looking for a car with an eyesome look and superb engineering with speed in a high budget then Ford Mustang Shelby GT500 is undoubtedly the one for you.