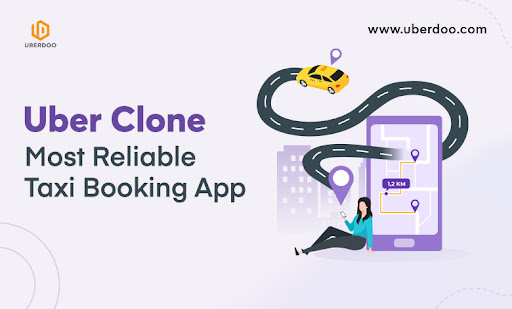 Uber is a mobility service provider regarded as the most famous brand for ride-hailing and other on-demand services. Since its inception in 2009, the company has taken the US by storm and soon expanded to other regions worldwide. No one would have thought that an innovative idea developed by Garrett Camp would develop into a dominant force in the ride-hailing and taxi business. Now, Uber clone scripts are regarded as highly sought valuables in the taxi business industry.
Uber Technologies Inc. has since branched out to develop subsidiaries like
Car Next Door

Careem

Postmates

Uber Eats
The question that may arise is, "How did Uber gain such huge popularity?"
It started with a question regarding how to ​​minimize the cost of direct transportation. The answer was to share the cost with other people on the ride so that it could become affordable. Ever since then, there has been no looking back for Uber.
Let us see some key statistics about Uber which show its potential and power.
Uber's revenue in 2021 stood at a colossal $17.4 billion.

The US and Canada account for most of Uber's revenue, contributing $10 billion.

Around 118 million people use Uber or Uber Eats once per month.

In 2021, Uber drivers completed 6.3 billion trips.

The taxi business generated $90 billion in gross bookings last year.

Uber completed, on average, 17.4 million trips per day in 2021.

Uber had over five million drivers worldwide in 2021.

Uber operates in 72 countries and 10,500 cities.
All the statistics that account for millions of trips and billions of dollars in revenue will entice enterprises and business owners to try out their luck in the ride-hailing taxi business. That is where an Uber clone comes in. 
An Uber clone app is an application that can make traditional taxi businesses evolve into digital businesses. These customized solutions succeed significantly because of innovation and state-of-the-art technologies. An Uber clone solution with unique features and functionalities will gain the edge in the competitive taxi business.
For developing an Uber clone app in a short time with less cost and effort, it is better to use an Uber clone script that can develop robust ride-hailing mobile apps supported on the iOS and Android platforms. Robust Uber clones purchased from reliable mobile app development companies should come with a powerful interface for both passengers and drivers.
By developing Uber clone solutions that support the major platforms, the taxi business is enhanced to operate in a broader environment. This way, entrepreneurs can confidently prove their brand value in the highly competitive taxi industry.
Premier Features of a Popular Uber Clone App
Quick registration through social media accounts

Push notifications

Ridesharing

Rating/ Review

Multiple payment gateway integrations

In-app Chat/ Call feature

The Advance ride scheduler

Heat maps

Multi-language/ currency support

Geo-fencing

Surge pricing

Live tracker

Estimated time of arrival feature

Fleet management

The auto ride fare calculator

Toll calculator

Promo codes

SOS emergency features
Some of the Premier Features in Detail
Now that we know what features are integral to the clone app, we will cover some of them in detail.
Quick Registration via Social Media Accounts
Registration or sign-in can be done by inputting just the mobile number or, in a much more convenient way, using social media account login credentials. Sign-in can be facilitated through Instagram, Facebook, or Tinder credentials. This serves to optimize everything and make the whole process a cakewalk.
Every status related to a given ride is sent consistently in the form of push notifications so that the user is updated with the latest information related to the ride.
The users and the drivers associated with an Uber ride must be able to rate one another and provide feedback regarding the ride once it is completed. This way, other users can get to know a lot about the given driver and thus make the decision to have a ride with the driver or not. The same applies to the drivers, who can learn about the riders.
Multiple Payment Gateway Integration
In present times like this one, where the pandemic has engulfed the entire planet, people are more inclined towards social distancing and zero-contact norms. This applies to the payment for rides as well. People are inclined towards digital payments as everything gets accomplished in an instant. So, with that said, integrating all types of digital payments like eWallets, PayPal, debit/credit cards, and much more robustly secure payment modules is the need of the hour.
The Advance Ride Scheduler
The ride-hailing app will schedule rides only in advance. But what if they have to be done some days or even weeks in advance? That is where the advanced ride scheduler comes in handy. Once such a ride is scheduled, and as the time advances towards the day of the ride, the user will be notified consistently regarding the ride so that they don't forget it. A driver and cab will be assigned for the ride day, and everything will proceed normally, as in a typical ride.
Multi-Language/Currency Support
There will be a time when the ride-hailing business will be launched in international markets where different languages are spoken and currencies differ. With the help of multi-language and currency support, the business can be smoothly launched in all those countries immediately. Integrating RTL support also proves its worth here. This way, you are catering to the needs of people worldwide without any hitches.
Estimated Time of Arrival Feature
The ETA feature will provide the rider with a pre-calculated time before the cab arrives. This is done by considering several factors like distance, traffic, peak hours, weather, etc. This way, the rider will be updated regarding when the cab will arrive at the pickup point.
This is another functionality that is gaining widespread prominence. Due to unforeseen circumstances, a special button can be pressed from the app when a rider feels threatened or is in jeopardy. This button is known as the "SOS emergency" and will alert the rider's emergency contact and the law enforcement authorities in the vicinity of the cab. This way, speedy actions can be initiated to prevent some unfortunate events from unfolding.
Most importantly, amid the pandemic, an Uber clone script must offer COVID-19 safety features to build trust among the people that the given ride-hailing business is concerned about the well-being of the passengers and the riders. One essential feature could be software that monitors drivers' compliance with the rules regarding using masks, gloves, and sanitizers. Others include a vaccination proof uploader that will authorize drivers to work and COVID-19 heat maps, which alert drivers of areas with higher infection rates.
Benefits of Uber Clone Solutions
When a ride-hailing / ride-sharing app is implemented, it offers several benefits over traditional taxi business functionalities. 
The dynamic pricing model will attract drivers to areas of high passenger demand during critical times.

The rider can use the app to track the driver with updates and ETA, optimizing convenience.

The taxi business that operates on a sharing model will be able to use cars properly as assets.

Ridesharing implies that the fare is equally split among the riders, saving a lot of money.
Final Thoughts
Ride-hailing and Uber clone app solutions have become synonymous with one another.
Uber clone app development is a process that can be completed in the shortest amount of time by selecting a company that has an advanced Uber clone script ready. The scalable Uber clone script can be properly used to create an ambitious ride-hailing app in the shortest time frame with rich customization, better UI/UX design, and loads of beneficial features.
When availing the services of a company with expertise in white-label Uber clone app development, intense scrutiny of their reviews, testimonials, and demo videos can act as trustworthy parameters for ensuring that the mobile app-operated taxi business is guaranteed to succeed.