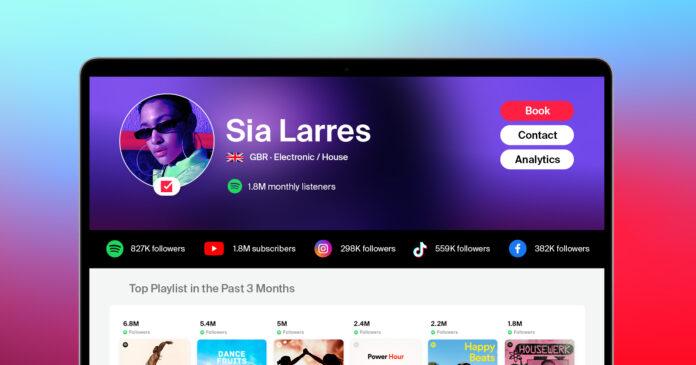 In today's music landscape, success hinges on the interplay between melody and metrics. As data becomes a pivotal instrument in an artist's toolkit, Viberate emerges as the convergence point for music distribution, promotion, and music analytics.
An Overview of Viberate for Artists
Introducing Viberate for Artists: a platform tailored to cater to the multifaceted needs of independent artists. It seamlessly combines essential tools ranging from digital distribution and Spotify analytics to playlist pitching. Viberate's rich history as a music data company has always been about providing valuable music analytics to industry professionals. Taking a step further, they now introduce data-driven tools specifically for artists. Some of these tools are available at no cost, while a comprehensive premium plan is available for just $39 annually.
Free Artist Websites by Viberate
Boasting the title of the world's largest crowdsourced artist database, Viberate ensures every artist is represented. Each artist page is meticulously verified by dedicated curators. As a result, Viberate offers a free website for musicians, inclusive of essential details such as:
Genre and home country

Featured songs and music videos

Upcoming events

Audience demographics
Artists can claim and customize these websites, adding functionalities like contact and booking options. As Viberate proudly claims, these sites are "attractive, automatically updated, and always share-ready."
Deep Dive into Spotify for Artist and Streaming Insights
For artists seeking a deeper understanding of their online presence, Viberate offers integrative social media and streaming analytics. When artists link their Spotify accounts, they unlock comprehensive Spotify for Artists stats. Key metrics include:
Tracking Spotify listeners, followers, streams, and stream sources.

Audience gender and age demographics.

Geographic breakdown of fanbase.

Fastest growing listener demographics.

Insightful playlist performance data through a unique

playlist analyzer

.
This integrated playlist analyzer allows artists to pinpoint top-performing tracks and understand the evolution of their reach over time. Furthermore, artists can identify which playlists contribute most to their streams and listeners. This becomes an invaluable asset when strategizing promotional campaigns.
Unleashing Music with Digital Distribution
Before promoting, there's producing. Viberate ensures artists can effortlessly release their music. The platform offers unlimited digital music releases across all major streaming platforms.
Optimize Reach with Spotify Playlist Pitching
Promotion is crucial post-production. And with Viberate's playlist analyzer and Spotify playlist pitching tool, artists get a significant leg up. This tool showcases a ranking of over 12M playlists based on popularity. Artists can curate a tailored list of playlists that align with their music and have the potential to amplify their reach.
The playlist analyzer refines search results through various filters such as genre, playlist type (editorial, indie, and more), song release date, and song popularity. For instance, artists can discover that 83 indie curator playlists featuring House music have at least 15,000 followers and predominantly feature songs released in the recent three months. The playlist analyzer also facilitates direct communication with some playlist curators or provides external links for outreach.
An added bonus? Artists can juxtapose their performance with comparable artists and pinpoint popular playlists spotlighting their tracks.
Premium Benefits with Viberate
For those looking to elevate their music journey, Viberate offers its premium plan at $39 per year. This encompasses music distribution, enhanced promotional tools, and advanced analytics. With a special nod to Viberate Spotify promotion, artists are provided a holistic platform to maximize their growth in the ever-evolving music industry.
Embrace the future of music with Viberate's state-of-the-art tools, ensuring artists not only produce great music but also effectively promote and analyze their craft.