Are you on the road to become a fashion designer in India? How much do fashion designers earn? Do you think a Fashion Designer Salary is enough to pursue all your dreams? Here in this article, we will share information about fashion designers, how to become fashion designers, job roles in fashion designing, and how they earn through their salaries.  So, let's get started with this article without taking much time, and understand everything about fashion designers and their pay scales.
Who Are Fashion Designers?
Fashion designers have creative minds through which they create innovative and determined fashions. These individuals are aware of the fashion market requirements and required knowledge about fashion. Most fashion designers are interested in learning new things and styles and reading magazines, journals, books about fashion designing. And they learn about the latest developments, and they are aware of the history of fashion and the latest trends.
Things You Should Know About Fashion Designing and salary:
Fashion designing is a professional job and profession that requires some skills and abilities to research trends in the market.

Fashion designers must have a creative mind to perform sketching exercises and fabric selections. In this profession, fashion designers have to be entirely involved with market trends.

Success in fashion designing requires a better understanding of the audience, the lifestyle, capabilities to spend money, customer needs, and market requirements.

The basic understanding of fashion designing means it is an art of innovating, inventing, creating, and adding beauty to clothing through certain accessories.
What Do Fashion Designers Do In Their Job?
For a better fashion designer salary in India, their job starts with sketching different fashion ideas, cutting clothes, fabrics in the pattern, sewing the same, adding fashion shows, and uses primary skills of tailoring for the perfect fits. It also includes drawing various Patterns to create garments, selecting appropriate fabrics, and adding specific designs to make clothes attractive and stylish. Fashion designers have to read different books, magazines, and journals to keep updated about the latest trends and new styles.
Who Is Eligible To Become A Fashion Designer?
A person has to clear 10+2 or equivalent education to become eligible for admission in fashion designing. After that, candidates can start preparing for various entrance exams like NIFT, NID, CEED, UCEED, AIEED, and other exams for admission in UG and PG design courses.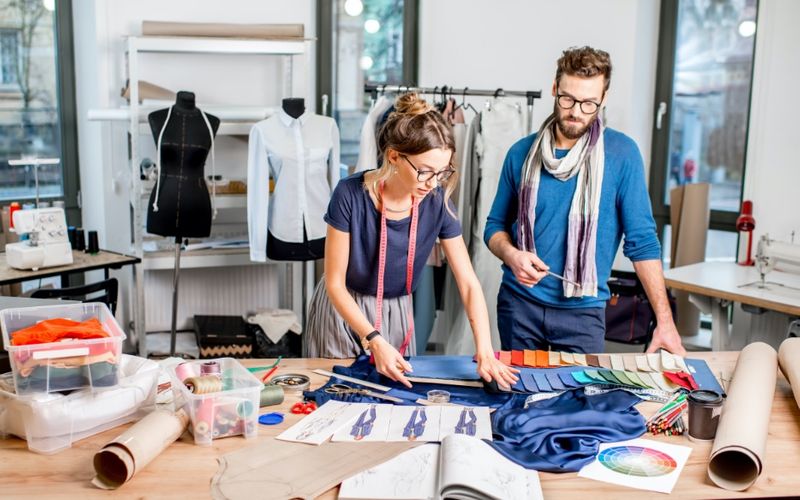 What Are The Job Roles In Fashion Designing?
Fashion designer salary depends on the type of job role they are performing in their design career. The main working areas of fashion designers are conceptualization and development of attractive designs in detail on fabric. Therefore, according to that, there are fashion designing courses available to sharpen the skills and knowledge. Depending upon the availability, of course, the following are some of the job profiles for fashion designers.
Fashion Coordinator:-

their job profile is to focus on advertising and promotion of brands and get something new as a product, and they work finely and closely with the fabric dealers.

Fashion Consultant:-

their lead role is to keep their eyes on the latest trends of the market, and they continuously observe the Changing Market for the latest trends.

Retail Manager:-

the responsibility of a retail manager is to promote, market gimmicks work in a better way. They give tasks to the staff as daily targets and focus on customer satisfaction. They might be the head of the HR and finance department for smaller enterprises.

Fashion Journalist:-

fashion journalists work to write and report about the latest fashion trends for different magazines. Therefore, they have to be in touch with the latest trends.

Makeup Artist:-

makeup artists work for weddings, events, pre-wedding photoshoots, bridal makeup, models, and celebrities. They are not like beauticians because they don't take the usual beauty treatment jobs.

Textile Designer:-

these designers work independently and work with the team for industrial and non-industrial settings. They create 2D patterns, repetitive as well as knit patterns.

Fashion Stylists:-

these fashion designers have a responsibility to choose the entire wardrobe of any fashion show. They pick the right pieces from other's Wardrobes and designer's collections.

Sketching Assistants:-

these designers create technical sketches of garments for presentations.
Employability In Fashion Designing:
Fashion designer salary depends on their employment and job role. They have high-paying jobs even though the employment opportunities are high. Here, we have listed some of the top employment areas where fashion designers can find their roles with good salaries. Fashion designers can find their places at consulting firms, MNCs, garment stores, corporate businesses, colleges and universities, leather companies, media houses, textile mills, garment stores.
Some of the top companies that recruit fashion designers are Raymonds, Allen Solly, Adidas, Spykar, Pantaloons, AND, Swarovski, Bata, Lifestyle, and many more. These companies want fashion designers to have great imagination and focus power.
What Is A Fashion Designer Salary In India?
If fashion designers are great in imagination and have good creativity, they have high-paying jobs. Still, fashion designers can increase their income through hard work, talent, creativity, and updating to the latest trends in the fashion industry. Most designers take enough education and experience to sharpen their fashion skills.
We have given a rough idea about how fashion designers earn the average in India. Follow the points and get ideas about the salary of a fashion designer in India.
The starting salary of a retail manager is approximately 178,793 per annum. Their mid-level salaries are around 530,000 per annum, and senior-level paid salary per annum is approx 988,811.
The starting salary of a fashion stylist is approximately 144,000 per annum. Their mid-level salaries are around 440,000 per annum, and senior-level paid salary per annum is approx 1,200,000.
The starting salary of the textile designer is approximately 182,900 per annum. Their mid-level salaries are around 371,878 per annum, and senior-level paid salary per annum is approx 664,157. These figures are estimated and approx given.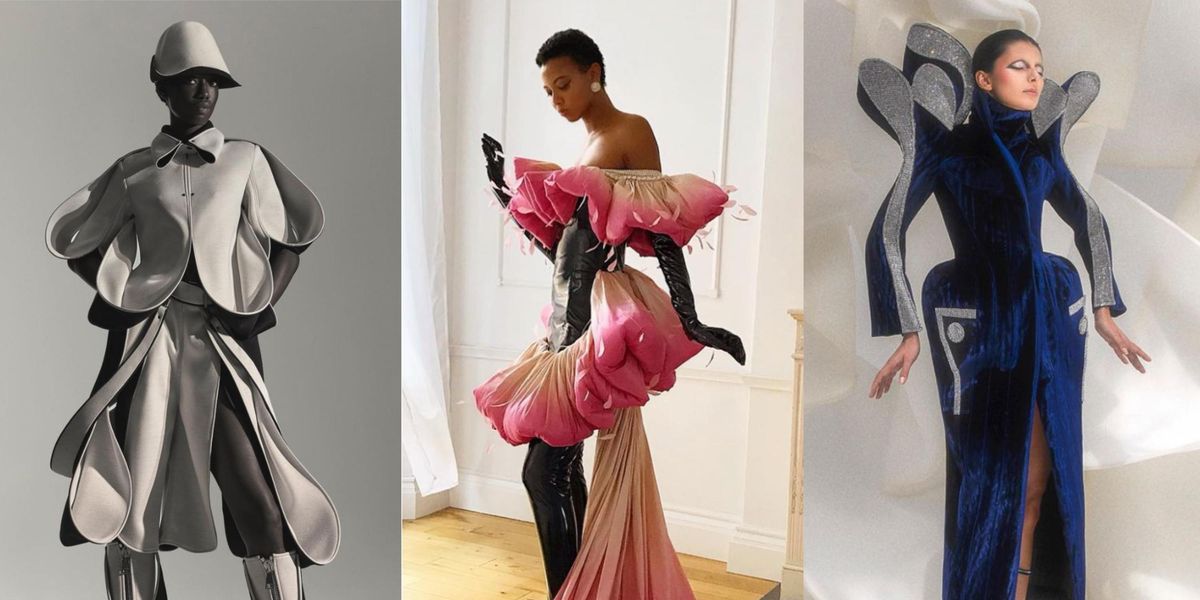 Pros And Cons Of Fashion Designing:
Pros Of Fashion Designing:
Fashion designers work with fun and create attractive designs. They provide eye-catching fashion for you. Being a fashion designer means to create something new and valuable and bring it in trends.
Fashion designers get self-satisfied because they come up with new and latest trends that are improved and best.
When people love traveling and choose fashion designing, they enjoy this career because it becomes fun with work. Therefore, travel lovers enjoy working in this career.
Cons Of Fashion Designing:
Fashion designers don't work in a fixed schedule like that in jobs where you have to work for fixed hours. Therefore, they have to work overtime to meet deadlines.
Fashion designing career is competitive and exhausting that put people in a stressful atmosphere.
There is no perfect prediction of a fashion designer's income because they don't have a fixed income scale. Thus, they might have significant income fluctuations.
Per Month Fashion Designer Salary In India:
Fashion designing is one of the most demanding, fascinating, and satisfying careers in the world. Fashion designers create new designs for clothing, and it is their income source. Their job is to make designs that suit present trends. Fashion designers design new styles by keeping ideas in their minds. They also have to consider the climatic changes in India. Most people prefer garments from renowned brands because they assure quality and customer satisfaction. It becomes the primary reason that fresh graduates are willing to pursue their careers in the fashion industry. Of course, they want to know about the starting salary of a fashion designer per month in India.
Various factors drive the Fashion Designer Salary in India. The first and the most affecting factor is location. The salary of a fashion designer in some metro cities is higher if we compare it to those who don't live in metro cities.
The second most essential factor to consider for the salary of a fashion designer is the company itself which hires the designers. Here in the below section, we have taken basic and estimated salary packages for fashion designers in India.
Average Salary Of A Fashion Designer By Position:
Design assistants start their fashion designing career from the lower-paying packages of 15,000 to 25,000 per month.
Junior designers are in the middle level of the job, and their salary package is slightly higher than that of a design assistant. They get paid approximately 40,000 per month.
If you are a creative director fashion designer at any firm, you must have a higher salary package per annum. This position is one of the top positions in fashion designing, and employees get a higher salary. The approximate income per month is about 50,000 to 100,000 for creative directors.
Wrapping Up:
Have you correctly understood how fashion designer salaries are given in India? In this article, we have covered almost all the things you must know about the fashion industry. But if you have not started any courses for education in the fashion industry, you should enroll in one of the reputed courses to begin your career in one of the most exciting, adventurous, creative, and enjoyable careers in the world.