Do you know what type of Color Picker Chrome Extension does a developer love to work on or choose? You might have thought that most developers have chosen the chrome extension according to the comfort and productivity of these extensions. But that is not the correct one. 
Of course, a developer's choice differs from developers to developers. In this article, we will give a brief introduction to what color pickers do most developers choose so that you can get better ideas about the choices of developers in 2020. Be with us, and read this article till the end to find the best color picker for your comfort. 
List Of Top 7 Color Pickers That Developers Use In 2020:
We have strictly analyzed the choices of developers according to their comfort, productivity of chrome extensions, and their experiences with different chrome extensions so that we can bring your table a piece of best extensions to enhance your experiences with the chrome extension. So let us start with the first extension.
Site Palette:
You might have visited webpages frequently to let the Site Palette grabs your attention towards it, and you felt fresh to enjoy the color. It is what Site pallets do. It covers all your expectations and creativity. To get a color palette of any page, you can use this extension as it is one of the fastest color picker extensions.
It gives results in seconds so that you can get the color palette of any page in seconds. Most developers and visitors use to visit different sites while using this chrome extension so that they save them for later use. They do it by running this extension while they are surfing through websites. 
Color Pick Eyedropper:
Developers say that it is the second most popular color picker extension for a browser extension. So, that is why we added this extension to our list. You can access to this extension in chrome browser as well as chromium-based browsers. You can select zoom in to any of the areas on the browser window. 
It helps you to focus on the exact color that you want to pick. You can get free access to this application for your personal use. It provides the desktop app, so you need not worry about its application, and you can work outside your browser window.
ColorZilla:
There is no other option than to choose a ColorZilla if you want to select a color for your website through a great tool. You can access everything that you need to work on the color picker. The main thing about this extension is that it has an eyedrop color picker, color history, and webpage analyzer. 
In short, you can analyze the whole webpage, thanks to ColorZilla. The only reason to put this on the third number for the top 7 color picker extensions is that it was primarily designed for the Firefox browser. But, now you can also use it for the Chrome browser. 
Instant Eyedropper:
Do you know Instant Eyedropper is one of the most convenient ways to make it easier for you to grab your favorite color on your screen? It is a windows-only tool. It is the choice of the developer because they call it a lightweight application. As soon as it finishes the installation, you can see it inside your system. 
There is no rocket science in using this color picker extension. Just click on the icon of this app, and you can access the color. At that time, choose the color, and this app copies the code in the clipboard. Different formats that this app supports are HTML, Hex, Delphi Hex, Visual Basic Hex, RGB, Long, and HSB.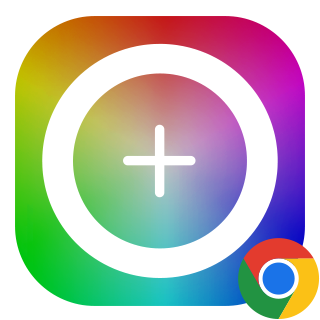 Just Color Picker:
If you are looking for something that allows you to choose your color from multiple platforms, thanks to its utility, then go for Just Color Picker. There is a lot for developers and people in this extension. Like it allows you to pick a color, saving of color, editing of color, and the combination into a color palette.
In short, it makes your color to get ready for application. There is a wide range for choosing color formats. You can access the zooming out tool so that you can see better results and accuracy. You can edit photoshop, gimp color swatches, and calculate the distance between pixels.
Eye Dropper:
To identify the color and to pick up the color, you can use this Color Picker Chrome Extension. The process is as simple as you have fun while Gaming. Open up an extension, and you can click on PICK COLOR from the web option. Then after selecting the color. As soon as you choose, it will show you the Hex code to copy the color.
Each time you identify the color, it stores in the history column. That means you can visit it repeatedly to check and decide. Additionally, it gives the color picker tab option to manipulate the palette. So you can choose the fine-tune and shade that you wanted. 
ColorPic:
If you are looking for one more lightweight windows color picker tool, then choose ColorPic. You can work on this extension with almost all the main windows versions and updates. 
Of course, it is a paid program, but you can access the free trial version. Specifically, you require this color picker for higher resolutions on large screens. Different types of formats that it supports are Hex, RGB, and CMYK. At the same time, you can save 16 colors in the palette. 
Reasons To Choose These Color Picker Extensions For Chrome:
You can save color palettes that you find online. Developers complain that designing for a new palette is not that easy task. So, they have easy access to different color palettes while they were surfing on the internet. Sometimes, you can use inspector tools on your browser to access the hex Codes. Most people use to grab the color palette with the help of capturing screenshots so that they can use Photoshop to identify the color from it.  
But, simplification of this process is a must, as everyone who wants to develop something does not have that much time to invest. Therefore, it is always advisable to select the right color picker tool that is helpful to you. Why? It is because color picker tools allow you to grab the right color from any Websites all over the world that you wish to select. Color picker helps people in picking up the most favorite and exciting colors from the Websites, desktops, or their cell phones. 
The main benefit of using these types of color picker chrome extension is that you do not need to leave your browser window. Hence it is an easy process to select the right color that you wish to choose without closing your browser window for identifying the color and coping the Hex codes. Color picker tools offer you to analyze websites so that you can get better results. The most exciting feature of a color picker is zooming! With the help of zooming features, you can get better accuracy, quality, and desired color palette that is satisfactory to you. In short, color picker extensions or color picker tools will help you in identifying the colors without extra efforts so that you can select your favorite colors.
Wrapping Up:
Could we bring the exact information that you wanted to get? Please let us know. In this article, we have listed the top 7 color picker extensions in 2020 that most developers use. These chrome extensions are the suggestions by the developer because of their productivity and ease of use. If you think Color Picker Chrome Extension is something that you need to use, then you can pick one of these color picker extensions to pick up your desired color from any websites that you come across. It will help you in coping and saving the colors for later use.