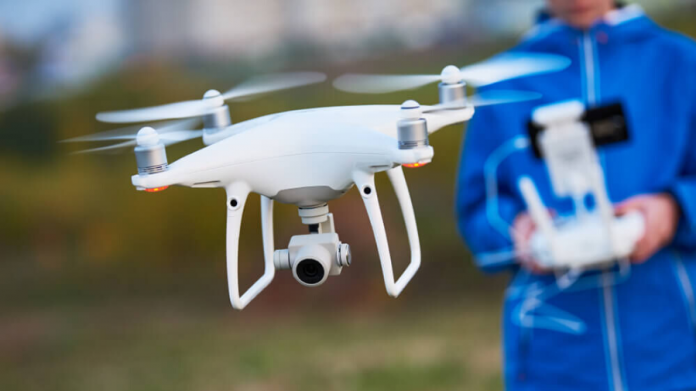 Just the thought of drones being the 'future necessity' is enough to describe its current importance in the late 21st century. Although it might sound like a fantasy (think of machines flying all around, nothing unlike those Sci-Fi movies), its significance doesn't seem unrealistic! However, drone tech isn't something that's unknown to people around the globe. The best example of this technology can be a camera with a drone.
Yes, being one of the in-techs of today's age, it is a tech revolution emerging at a lightning speed. The drone technology is one such revolution that'd (after a couple of years, of course) give you reasons to look behind and see the very distinct line dividing the world from the times before its emergence – much like smartphones, computers, and Internet do! With drone tech, there'd be innovation in the job industry that today's world doesn't even think of, say, for example, inspecting rooftop or window washing!
Until now, if you think that drone tech is just a mere futuristic idea that tech geeks talk about, you're certainly wrong. The drone tech isn't only an indulging hobby for a tech guru; its importance begins emerging in many industries; military, photography, security, broadcasting, and traveling, being a few of them. So, what do you exactly know about drone tech?
The Unnamed Aerial Technology
An aviation enthusiast knows how emerging drone technology is, in this digital world. In space and aviation, a drone is an unpiloted spacecraft or aircraft, thus, it can be safely called the UAV or unmanned aerial vehicle. The drone is an emerging technology in the military departments, for it's the tech that doesn't put a pilot's life at the risk in some combat zones. The best part of its application is – it doesn't require rest. They can fly as long as they are charged with fuel in craft, and they are the best value for the seamless mechanical process.
Applications of Drone Tech
What began as an application for military purposes has now become a technological revolution for entrepreneurs, large companies for several tasks. And by 2025, drones will apparently be used for a multitude of purposes. Here's presenting a couple of stunning applications for drone technology.
Disastrous management


A drone can give you quick means right after a man-made or natural disaster. It helps in gathering information. It helps in looking for injured persons too. Since it comes with high-resolution sensors and cameras, the radars can offer access to rescue teams. This saves the need for spending the resources on the manned helicopters.
Drones have been doing its rounds of collecting data ever since day one. Yes, that's its purpose. Aerial photography, being one of the foremost industries to embrace this technology, can give you an example of drone's application. In aerial photography, a drone captures the footage that would otherwise need the help of cranes or helicopters. The Sci-Fi or action movie you watched lately is filmed by this tech, thus making cinematography intriguing and easy. More applications of it include its use in sports photography and the real estate industry. For investigating something, drones can be a great way of collecting footage, to what journalists consider!
Taking care of wildlife


A drone, in a way, is a deterrent to the poachers. They take care of wildlife animals by protecting them with unprecedented protection. The sensors and cameras in a drone can be operated during the nighttime, thus making it possible to enable them to monitor the wildlife animals and provide insight into their behaviors and habits.
Collecting locational data and other info
Anyone can make the right use of drones, from professionals to amateurs. The best thing about using a drone is that it can provide you with high-resolution data apart from other imagery which is otherwise difficult to collect due to locational purposes. Think of the islands, coastlines, or the mountaintops! What's more exciting is that it can even create the 3D maps, thus contributing geographical benefits to the crowd.
Agriculture industry



Agriculturists look for inexpensive and more effective ways of monitoring the crops on a regular basis. Drones have this infrared sensor which when used can tune detecting the health of crops. It also enables farmers to improve the conditions of their crops with insecticides and other fertilizers. Additionally, it even improves agricultural management, thereby help better-yielding crops.
The time isn't so far from now when you would see drones delivering the online orders or probably working over the commuter routes (now this is something interesting). Drone tech is making waves and it will soon become a necessity in every possible industry. However, the biggest leap is soon to come over – the full autonomy.
The Internet, being the most convenient access to popular movies, books, and TV shows, has rapidly become an integral part of our daily lives. However, there is a percentage of people who don't make use of the Internet. The future is going to mark the date when the drone will be coming with optics features for people to access the Internet in rural areas. Yes, that's also a possibility.
What's the future?


Imagine the time when drones will be flying through the sky for multiple purposes, scanning, analyzing, collecting data, being a few of them. They would be able to do the task which we (humans) can't even think of. With that, complicated tasks will become simpler and more convenient. Take delivering online orders, for example.
The Drone Ride is yet to Start
The drone industry is taking maturing steps, given the fact that there is a lot of revolution going on in many industries. With drone tech, there's the possibility of improving the world with flying colors. Drone technology is doing its rounds with constant evolution; therefore, its future technology is undergoing progressive change. With drone tech, the world is going to have an advanced solution to improve every industry with groundbreaking changes.  Thus, these are some of the revolutions that the current world knows about the emergence of drones.